LLuna2 is designed to enable virtual presence on Web sites with animated avatars, video, bubble chat, private chat, and personal profiles through the Jabber[tm] protocol, integrated with Jabber based Instant Messaging and operable without additional server components.
The windows client program called LLuna2 is designed for end users wishing to meet other Web surfers on random Web sites. LLuna2 users will see other users as an icon on the page while they are on the same Web site. Users can move their avatar, they can join others, and engage in group chat with the new direct-input bubble chat. Download and use LLuna2 are free. IE and Firefox are available.


Another website is Webmobs, that also uses LLuna2. I don't know what relationship between they both.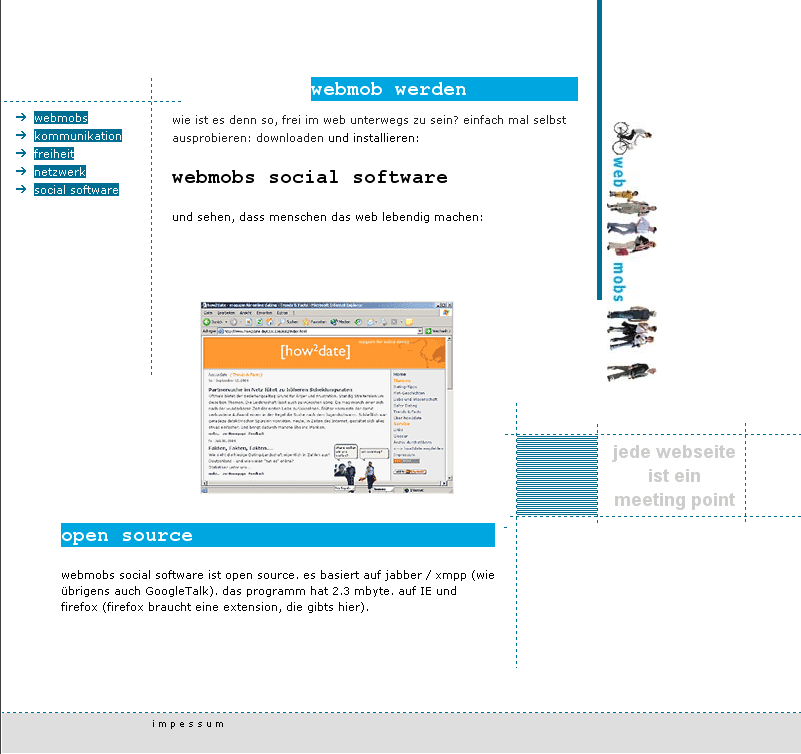 LLuna2是專門為能在瀏覽網站時用虛擬環境聊天而設計的。它通過不同的視覺感受:卡通人物、影像、個人聊天工具來與一些互不相識的人但同時也在瀏覽相同網站的人聊天。它基於Jabber[tm]的協義整合Jabber即時通服務系統來傳遞對話,而無需其他軟件。
LLuna2是windows環境下的客戶端的名稱。它可以滿足人們在任意瀏覽網站時想與他人聊天的願望。LLuna2的用戶可以看到其他正在瀏覽相同網站的用戶的卡通圖像出現在該網頁上。使用者可以移動他們的圖像,加入其他的小組。下載和使用LLuna2是免費的,適用於IE和Firefox瀏覽器。
另一個網站是Webmobs,它也使用LLuna2。我不知道這兩者的關系。